Sanglas 500 S2 race project
This is a fairly rare project, being a five-speed unit construction four-stroke pushrod single not normally associated with racing. However, we were asked to tune it for the cut and thrust of Spanish street racing,so that's what we're doing. Reinforcing the existing crankshaft has been achieved by substituting the main components of a modern speedway engine crank for the Sanglas ones, and machining them to suit the existing mainshafts and crankcases. The timing side mainshaft has been hard-chromed and ground to the clearance required for the line-bored timing side bush,which should considerably improve its longevity.
| | | |
| --- | --- | --- |
| Sanglas in full flight at LaBaneza 2010. | Firing up the Sanglas! | On the starting grid at LaBaneza 2010. |
The shorter connecting rod has necessitated a reduction in the height of the cylinder barrel,and consequently the pushrods.Entirely new cam profiles are being developed to replace the existing rather moderate ones,and much lightening work will be undertaken on the rockers, which are well capable of using it.
The projected compression ratio will be in the order of 11.3:1, and in order to maximise throttle response, the carburettor size will be 34mm. Due to the 90mm bore, the cylinder head has been twin-plugged to assist in the maintenance of an efficient burn throughout combustion cycle variability in the rev-range. A fascinating project, and very satisfying to work on.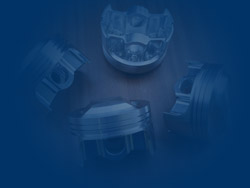 To obtain the correct combustion characteristics,and to replace the original Sanglas piston,which is inadequate for racing conditions, we set out the piston crown design required,and had these new 90mm bore items beautifully machined from aluminium alloy forgings. The new pistons are much lighter, vastly stronger, and will give both the required compression ratio and squish for the intended engine characteristics. The crown dimensions are such as to allow for compression ratio modification without changing critical clearances if required.
Site created by WebSiteDesigner