What we do, what we can do and who we are!

Badger in its native environment!
Now, even more new services available!
We havn't been sitting doing nothing in the last few years! No, we've been honing our skills! And are pleased to be able to offer the following new services: Painting services from Brian, rebores and honing. Pattern making and casting of odd or bespoke components.
Boring, yet interesting
Experiments in casting
Also our proven services!
Fork stanchion refurbishment : Straightening, hard-chroming,and re-grinding back to standard diameter,correctly between centres.
BSA A-series timing-side journal hard-chroming, and line-boring of timing-side bushes
Rewiring work that uses the best of traditional crimp-connectors and bullet snap connectors,fitted with the correct tools
Lead-free exhaust valve seats, solidly fitted.
Drum brake preparation : Drums skimmed, and oversize linings fitted,then turned to size for the maximum braking efficiency possible. Road or race grade linings available.
Castrol Classic Oils : We stock XL30 , XXL40 , GP50 , R.40. , M ( R.50), XL 20/50 ,EP90 and EP140 gear oils,Running-In Oil No.2, and No.1 Glazebuster
Camshafts : Motorcycle camshafts of a very wide range of profiles , and followers to suit are available to order. All are hard-faced with the finest of material selected for mutual wearing compatibility.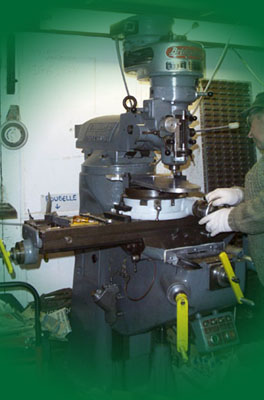 Here at Hoppybikes we restore and repair vintage bikes to their former glory. Take a look at the way we've done it in the past and the way we're doing it now. We've made several purchases over the years to make the restoration process easier for ourselves; although saying this we've had to create parts from scratch to fit onto the bikes as they're no longer available any other way.
How do we go about doing this? Let us show you: we have two engineering facilities to machine and create custom parts for each motorcycle if we can't get the parts any longer; which is often the case with the older manufacturers and models.
During George's racing sponsorship career he owned and prepared Thruxton T120's from 1960 through to 1969 and T100's in 1965, 67 and 68. Most of these bikes were "works" machines that were delivered from Coventry for his rider, Peter Butler, to race as a privateer in various races. He was very successful and won a great number of events that he entered, in both club and national classes.
His experience in the race circuit and with preparation, tuning and repair enables him to give excellent advice in all these aspects to friends, colleges and professionals to equally great advantage.
---